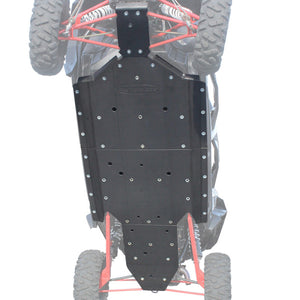 RZR XP4 1000 Half Inch UHMW Skid Plate. We've got your XP4 1000 covered with Factory UTV's UHMW Skid Plates, the gold standard for UTV protection systems. OEM skid plates simply do not satisfactorily protect the underside of your UTV under normal off road operation. With items as important as your fuel tank and hydraulic lines right above the skid plates an alternative to the OEM skids is imperative for fun and safe off roading. Factory UTV has the answer with skid plates constructed from UHMW (Ultra-High Molecular Weight) plastic. Significantly lighter than aluminum, FUTV skids and A-Arm guards offer full protection for the under carraige of your UTV. UHMW is tough, wear resistant plastic that combines an incredibly low coefficient of friction with outstanding impact strength, and will outwear carbon steel 10 to 1. Unlike aluminum, UHMW also has memory, meaning after a big impact hits aluminum will bend ,gouge and break while UHMW maintains it's original shape. These skid plates are very TOUGH! Protect your investment today! This is the same protection Factory UTV Support racers have used to protect their race UTV's and win every major Pro UTV Endurance Championship race including the Baja 500, Mint 400, King of Hammers, San Felipe 250 and Silver State 300. 
X-Brace Aluminum Bash Plate
 

*

This X-Brace consists of a 1/8″ 6061 High Strength Aluminum sheet that gets sandwiched between the UHMW skid and frame during installation for the Ultimate in protection under your critical engine area.