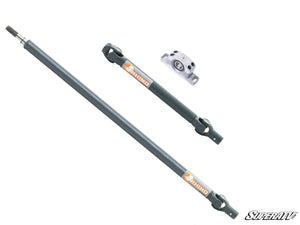 Meet the Rhino Driveline Prop Shafts from SuperATV—the last prop shaft you will ever buy. Rhino Driveline Prop Shafts are the strongest prop shafts you can get paired with smarter U-joints that wear less and run smooth. Bolster your driveline's backbone with SuperATV's expertise. Upgrade to a Rhino Driveline Prop Shaft and drive your Polaris RZR XP 1000 like you never could before 
What's it Take?
What does it take to make the best prop shaft in the industry? It takes months, years, and decades of riding every day, designing every night, and getting up early turn tubes, scrap, and ideas into something special. That's what we do at SuperATV: We toil, hone, and test until we've built the perfect prop shaft worthy of the Rhino name. With a dose of perseverance and a whole lot of know-how, we innovate, and we change the way we ride. 
Why it has to be SuperATV
The OEM prop shaft has .088" tube walls and a 1.25" diameter tube. That just isn't strong enough. How do we know? We live it every day in the creeks, rocks, mud, and hills. We built Rhino Driveline prop shafts with .120" tube walls and a 1.75" diameter tube. How do we know that's strong enough? That takes decades of engineering experience, technical understanding, and high testing standards. Point is, you can't just make something this good—you have to earn it. We put in the leg work and you reap the rewards—Rhino Driveline Prop Shafts. It's time to start your engines because we're just getting started. 
Carrier Bearing
Our carrier bearings make maintenance and installation a breeze with a greaseable, self-aligning bearing and a two-piece design. Our carrier bearings include a snap ring to keep it secure on the shaft. 
Note:
Rhino Driveline Prop Shafts are compatible with SuperATV Carrier Bearings only.
SuperATV recommends greasing Bounty Series Prop Shafts after every ride.
NEED HELP CHOOSING THE RIGHT PROP SHAFT?
RHINO DRIVELINE SHAFT: BIGGER IS BETTER!
1/2" larger diameter shaft than stock
Shaft wall is .120" vs stock's .088"
Made of 4130 chromoly tubing (stock is plain carbon steel)
THE DIFFERENCE IS IN THE JOINT.
BOUNTY SERIES


Perfect for rough riders.
Our Bounty Series prop shaft comes with a needleless U-joint that is twice as strong as stock. It can withstand the most extreme riding conditions.

Made of 4340 steel.
Needleless bearing U-joint - no rust or binding.
Posts 30% larger than stock.
630 bronze caps for strength and endurance.
Greasable zerks for easy maintenance.
Phased and balanced - no vibration.
Works with SuperATV's Bearing Carriers.

U SERIES


Superior strength for casual riding.

Our U Series prop shaft is the perfect replacement for your stock shaft. The 4340 U-joint is stronger than stock.

Made of 4340 steel.
Phased and balanced - no vibration.
Works with SuperATV's Bearing Carriers.
Greasable zerks
630 bronze caps
Larger posts than stock